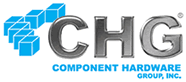 Commercial Kitchen Sink Faucets by CHG
Specializing in commercial plumbing products for foodservice, healthcare and commercial markets, Component Hardware Group is among the most trusted brands in the plumbing industry. Restaurants all over the country trust CHG for service-sink faucets and commercial water stations.
In addition to providing the best pot fillers and pre-rinse faucets for the restaurant industry, CHG offers leading commercial plumbing solutions for healthcare. CHG electronic faucets and soap dispensers are sought after by hospitals and medical labs. Hands-free sensor technology reduces transmission of disease-causing bacteria from faucet handles. CHG retractable hose reels mount directly to the wall or ceiling to keep hospitals, garages, gyms and other high-traffic areas clean.
No matter what your industrial plumbing needs are, we at the Chicago Faucet Shoppe are here to help. Order online or call us with questions at (800) 969-8625!